Description
---
Impressive visuals. Impactful presentations.
Exceptional viewing: Brilliant 4K resolution will keep audiences captivated, and consistent colors across a wide viewing angle allow everyone in the room to view clear text and crisp, vivid visuals.
Optimal performance: Dell monitor technology optimizes fonts and ensures visuals appear sharp while operating everyday programs like Microsoft PowerPoint, Word and Excel.
Consistent clarity: Anti-glare and anti-smudge coatings reduce distracting reflections and fingerprints.
Great for groups: The impressive 55-inch touch screen is ideal for conference room settings of up to 8 people.
Product Brochure: Download the PDF file for the Dell Interactive 4K Conference Room 55 Monitor – C5518QT
---
Just the right touch
Constructive collaboration: Featuring up to 20 touch points with innovative InGlass™ Technology, multiple people can interact with the screen simultaneously via touch or styluses with 2mm pen tips, making group collaboration intuitive and seamless.

Smooth interaction: Two included styluses allow you to write or draw naturally in real time directly on the screen without any lagging, while the included remote allows added functionality.User-friendly functionality: Pen and finger differentiation makes it easy to switch between touch and pen-based interaction, and touch functionality is supported on virtually all industry-standard software.
---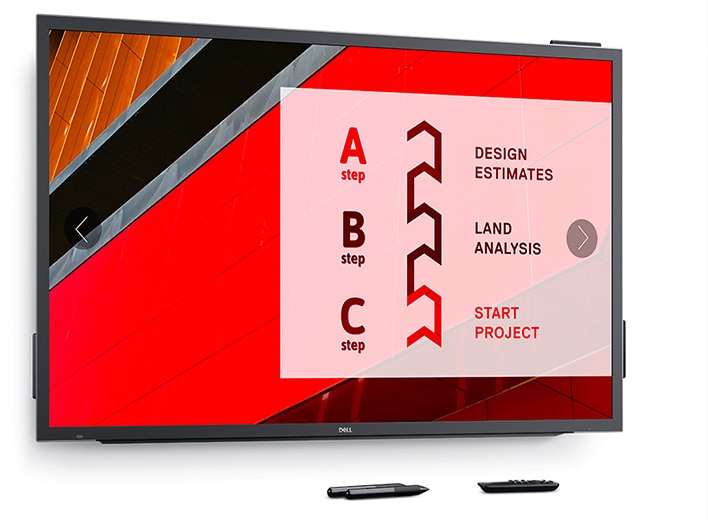 Simple setup and management.
Convenient connectivity: A variety of ports – including HDMI, VGA, DisplayPort and USB – makes it easy to connect to most IT devices.
OptiPlex compatibility: The Dell 55 4K Interactive Touch Monitor features a unique design that's compatible with the optional Dell OptiPlex Micro, which integrates seamlessly into the back panel without the need of a separate power cord.
Easy manageability: The Dell Display Manager lets users easily organize screen layouts. RS232 and RJ45 interfaces allow you to manage the display remotely.
---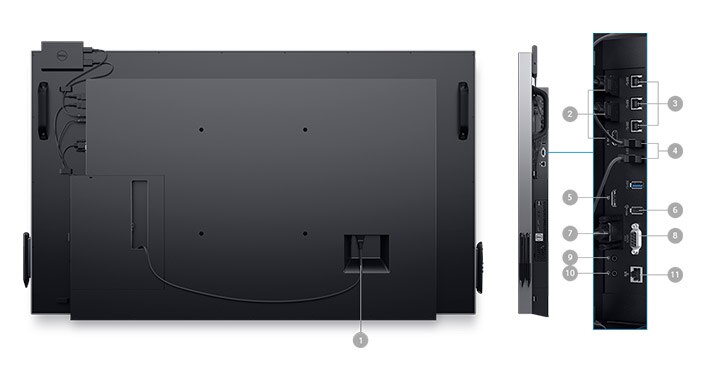 Connectivity Options
Ports and Slots:
1. Power Connector | 2. HDMI (x3) | 3. USB Type-B (x3) | 4. USB 3.0 | 5. DisplayPort | 6. Charging Port | 7. VGA | 8. RS232 Input | 9. Audio Input | 10. Audio Output | 11. RJ45 EthernetCables Included:
1. Power Cable
2. DP – DP Cable
3. HDMI-HDMI Cable
4. VGA Cable
5. USB Cable
6. USB Upstream Cable
---
Peace of mind, guaranteed.
A brand you can rely on
As the No. 1 monitor brand worldwide for 4 consecutive years (2013 to 2016)
i
, we take pride in our unyielding commitment to quality and the utmost satisfaction of our customers.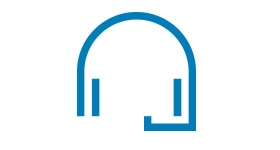 Expert Support
Relax knowing that your Dell monitor comes with next business day Advanced Exchange
i
if your warranty issue can't be resolved over the phone. Get a higher level of support with ProSupport for monitors which includes 24×7
i
access to ProSupport engineers for set-up, configuration, troubleshooting, and more, as well as next business day Advanced Exchange
i
.
Reliable and responsible
Designed with the environment in mind, this monitor meets the latest regulatory and environmental standards such as China Energy Label, CEL, WEEE, ErP (EuP) Standards, Korea E-Standby.